La Ferme de Billy aperitifs & digestives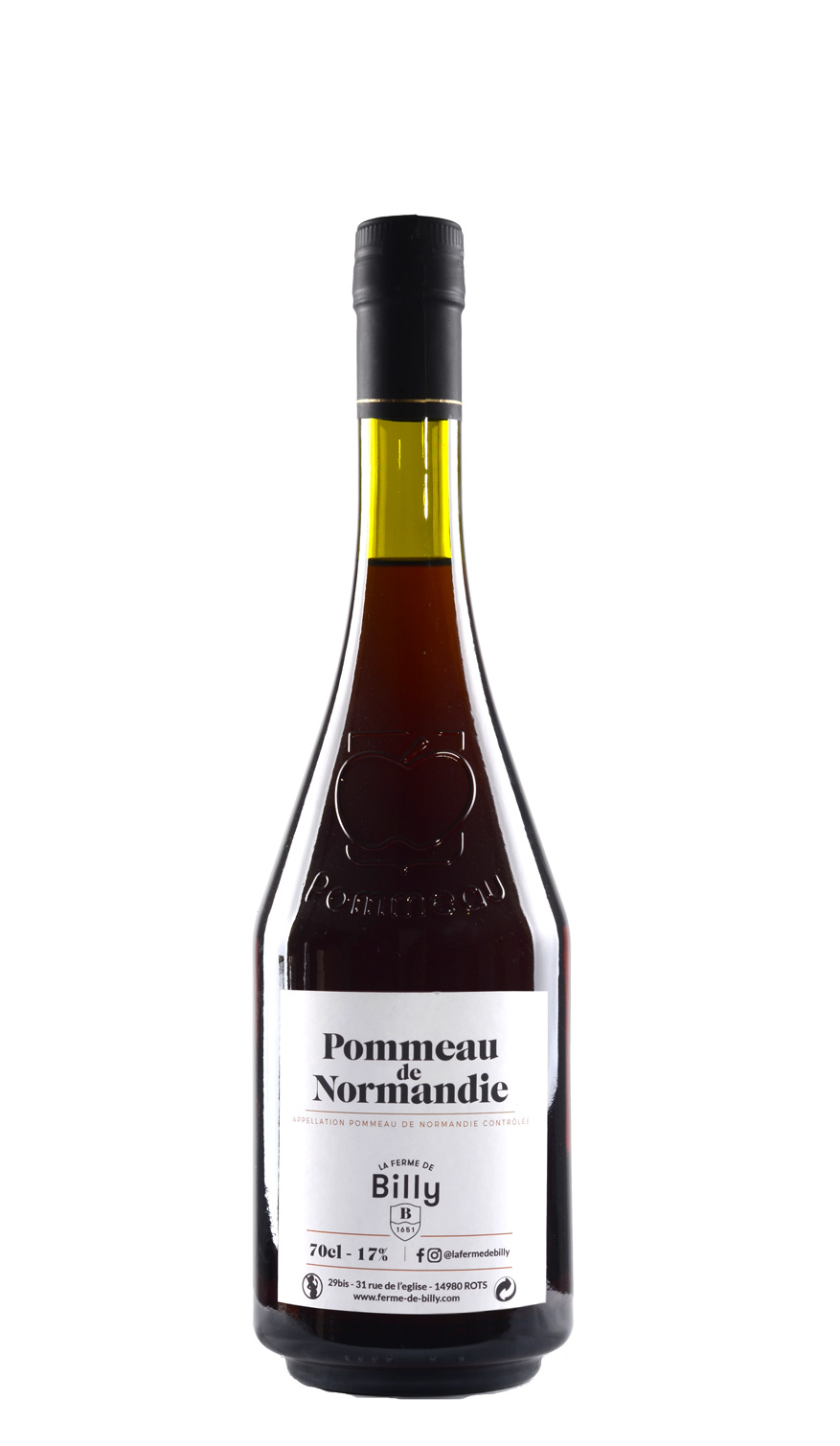 The pommeau de Normandie is the 100% made in Normandy aperitif, born from the happy marriage of apple juice and calvados from de Normandie.
It is aged for at least 3 years in oak barrels in our cellars on our property, in accordance with the AOC – Appellation Origine Contrôlée.
To be enjoyed on its own or in cocktails, it reveals all its flavours when served chilled – but not iced.

And by the way, do you know the "real Norman – vrai normand"? The cocktail based on pommeau + calvados de Normandie+ apple juice + grenadine. Drink responsibly! 
also available in a 50cl, 5 ml bottles,
and 20cl format in the Norman discovery trio gift box.
"A very well-balanced pommeau. Subtle, light, supple and round in the mouth.
A perfect blend to set your creativity free to inspire your meals and cocktails!"
It is a pleasant accompaniment to your festive meals – foie gras or hot oysters – and apple-based desserts.
In summer, it goes well with melon.
Perfect in the kitchen for flambéing or deglazing a sauce.
Award:
Multi-medal. Gold medal 2014-2013 and silver medal 2015-2012 & 2011 at the Concours Général Agricole de Paris.
Gold medal  2013 and silver 2018 at Concours de Cambremer
Medaliist 2013 at Concours des cidres de la St Jean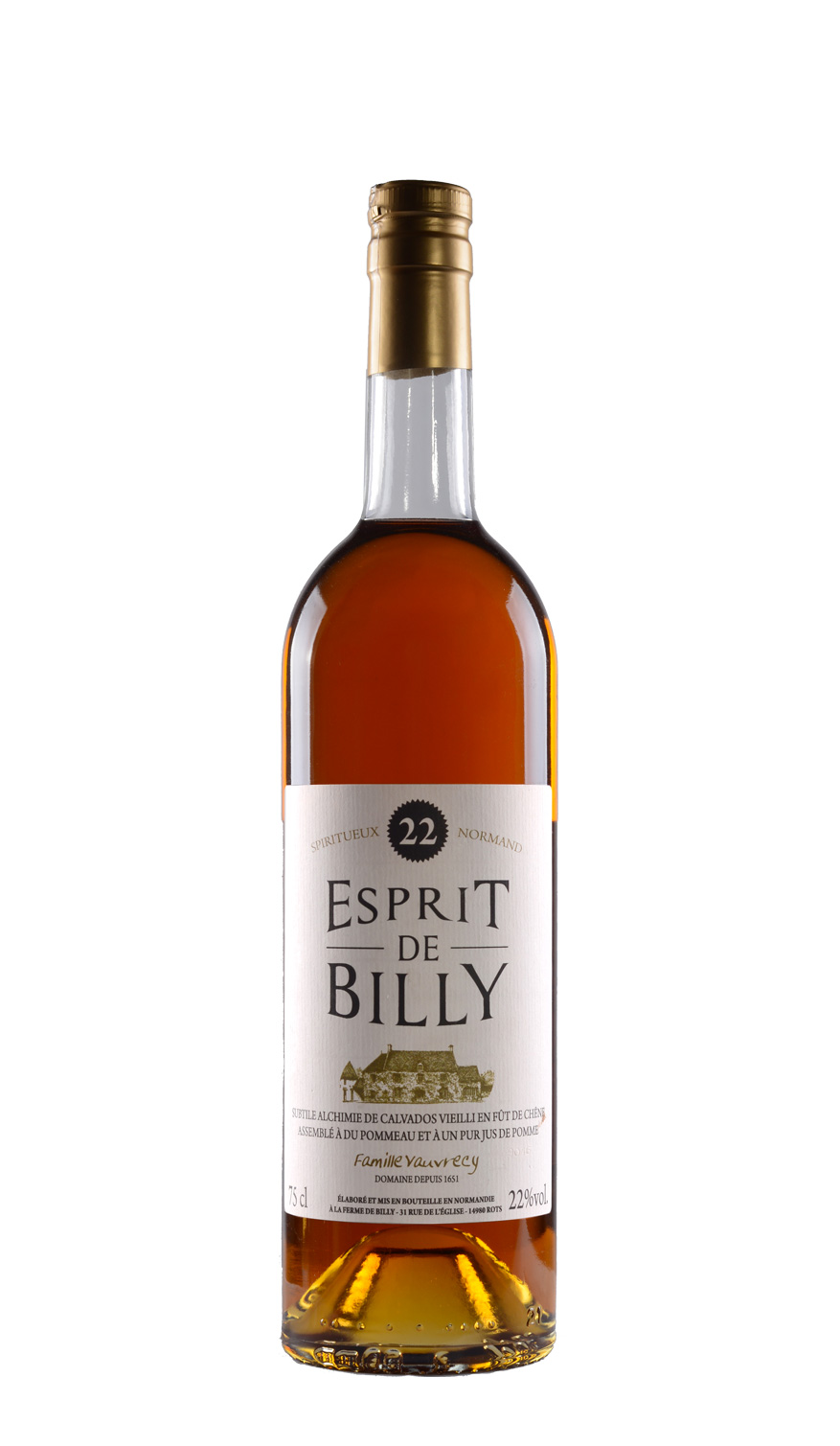 An exclusive la Ferme de Billy creation by Henri, the patriarch.
A 100% Norman aperitif combining
– the strength of young calvados de Normandie
– the roundness of the pommeau de Normandie
– and the sweetness of apple juice
To be enjoyed dry or with a dash of apple juice. Serve very chilled – but not iced!
And for the most loyal of you…
the "113″, you might say! It's 1 dose of calvados de Normandie+ 1 of pommeau de Normandie + 3 of apple juice.
So if you want to serve an authentic 113 to your friends, mix 1 litre of apple juice and 70cl of the Spirit of Billy*, and you are guaranteed that the right dosage is respected!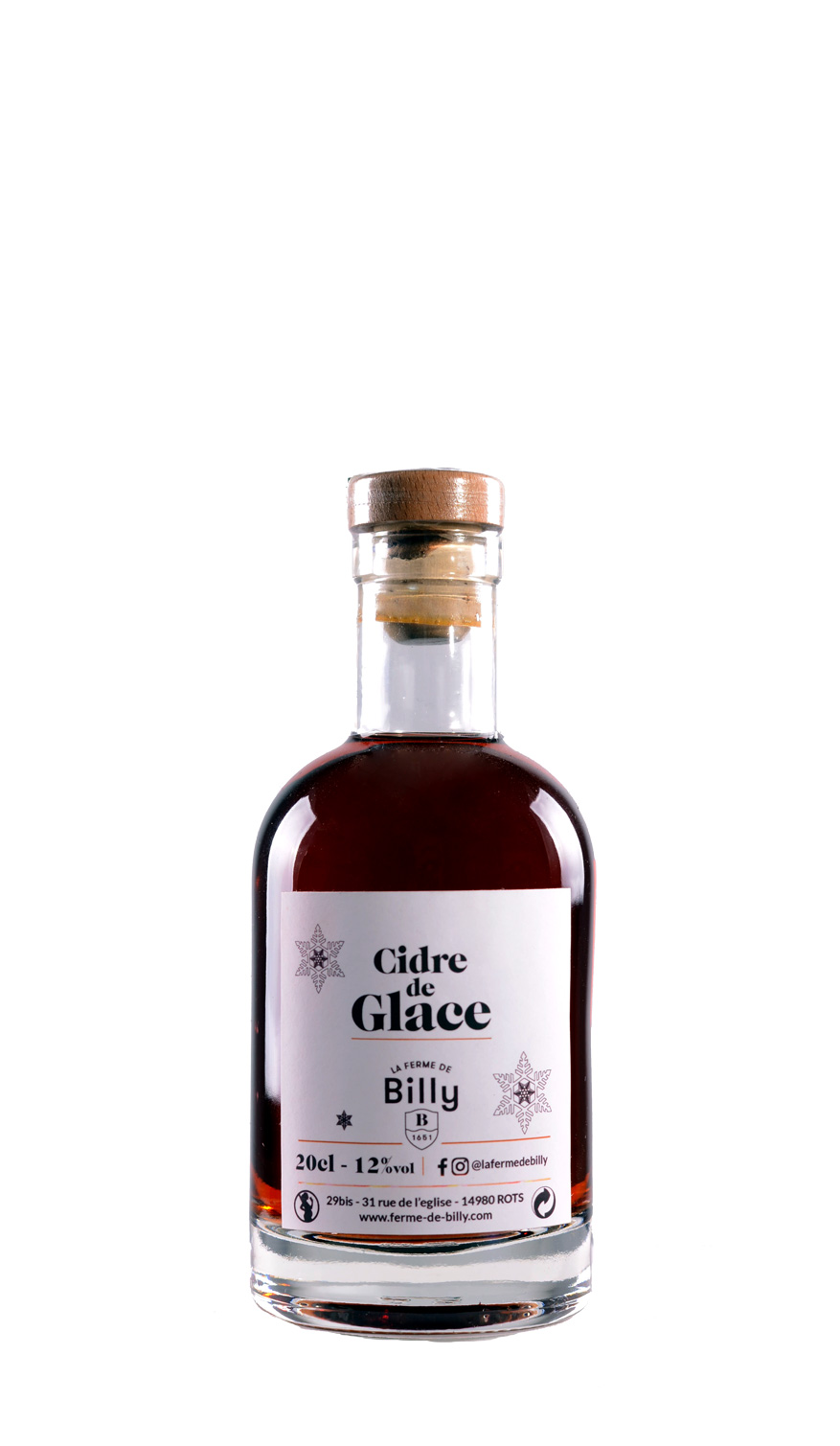 Ice cider, the "apple wine" that comes from Quebec, the land of the Great Cold.
In our Normandy, it is by cryoconcentration that we artificially recreate these extreme climatic conditions. Once the apple must is frozen, the sugars will concentrate to give only the best of apple flavours.
"A quiet, fresh and gourmet cider, it is soft on the palate, velvety in the mouth."
As a typical sweet wine that goes well with blue cheese.
Ideal with a pan-fried foie gras and a touch of Guérande salt.
As an aperitif or with a raspberry, apple or slightly chocolatey dessert. Drink well chilled – but not cold..
Award:
Gold medal 2019 & 2015 Vinalies Internationales.
Bronze medal 2018 Concours des Cidres de Normandie.

also available in 50cl, 27.5cl or 5cl miniature bottles,
and available in 20 cl in our Norman trio gift box.
Norman trio gift box – 3x20cl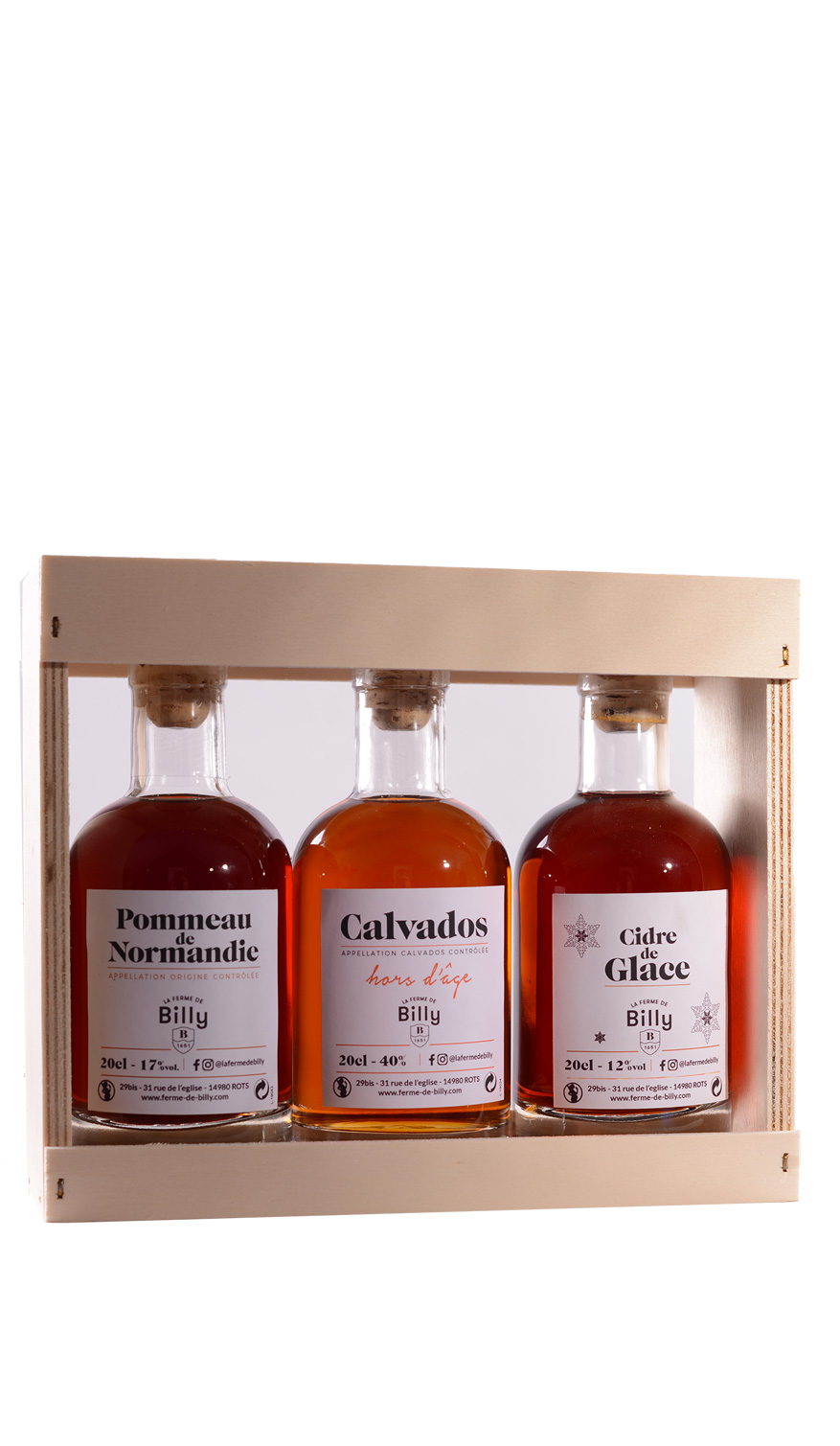 "When the cider apple comes in all shades, naturally!"
The tasty Norman trio gift box, ice cider, calvados hors d'âge & pommeau de Normandie,
natural wooden box containing 3x20cl bottles
A delicious gift idea for discovering – or getting people to discover – the palette of Normandy flavours.
Poiré – pear cider – 75 cl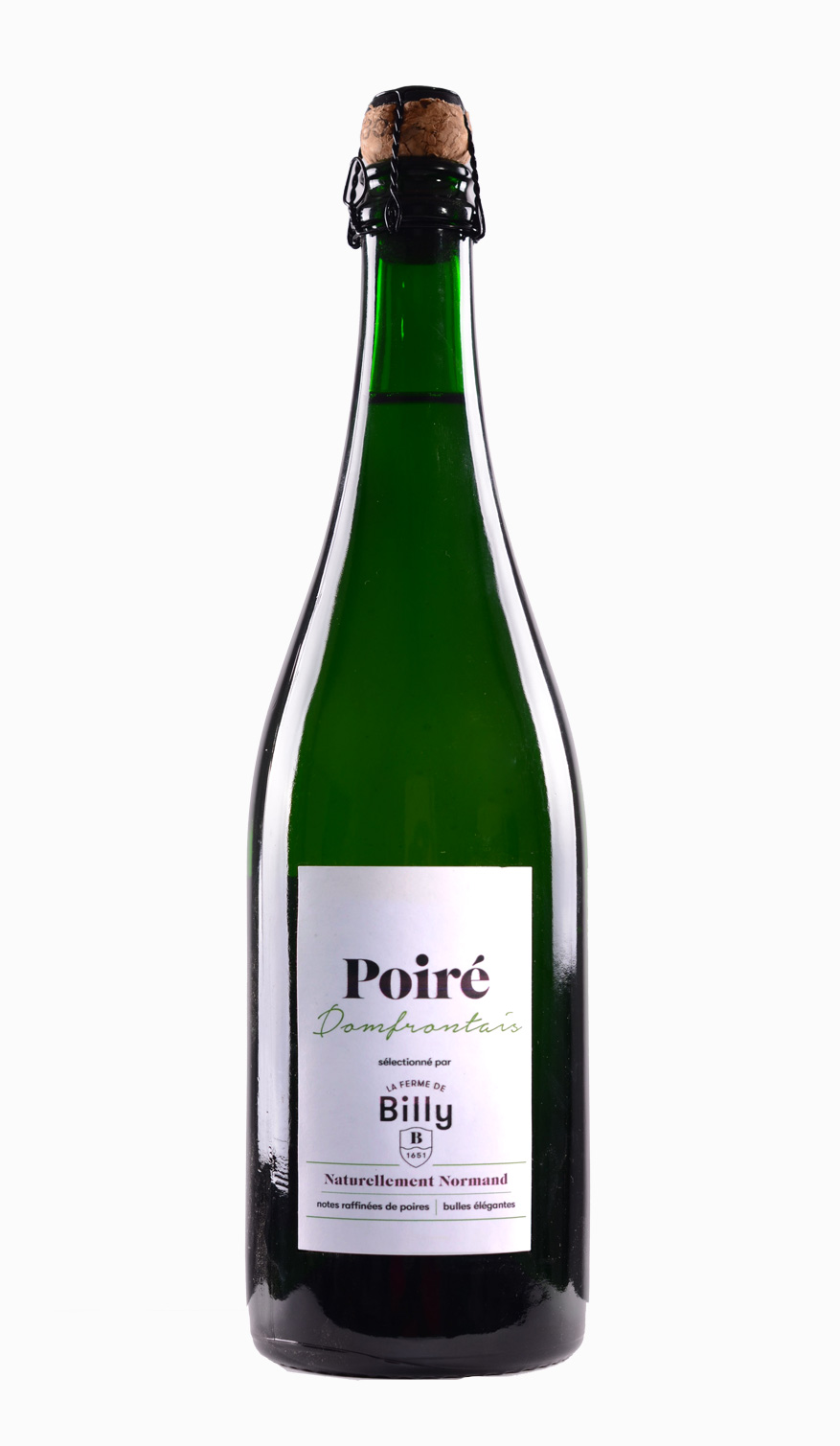 Love pears? We at La Ferme de Billy have the quality poiré for you!
We have selected for you a small "pear cider" from La Manche in West Normandy,
who passionately cultivates a Domfront pear from the white plant a pear cider
– 100% plan de blanc
– crafted the traditional way
– with natural mouse head from the bottle
– 100% made in Normandy
"The pears reflect a delicate finesse and freshness."
Ideal as an aperitif or in cocktails, as well a fish or shellfish meal accompaiment.
Serve well chilled, between 8 – 10 degrees.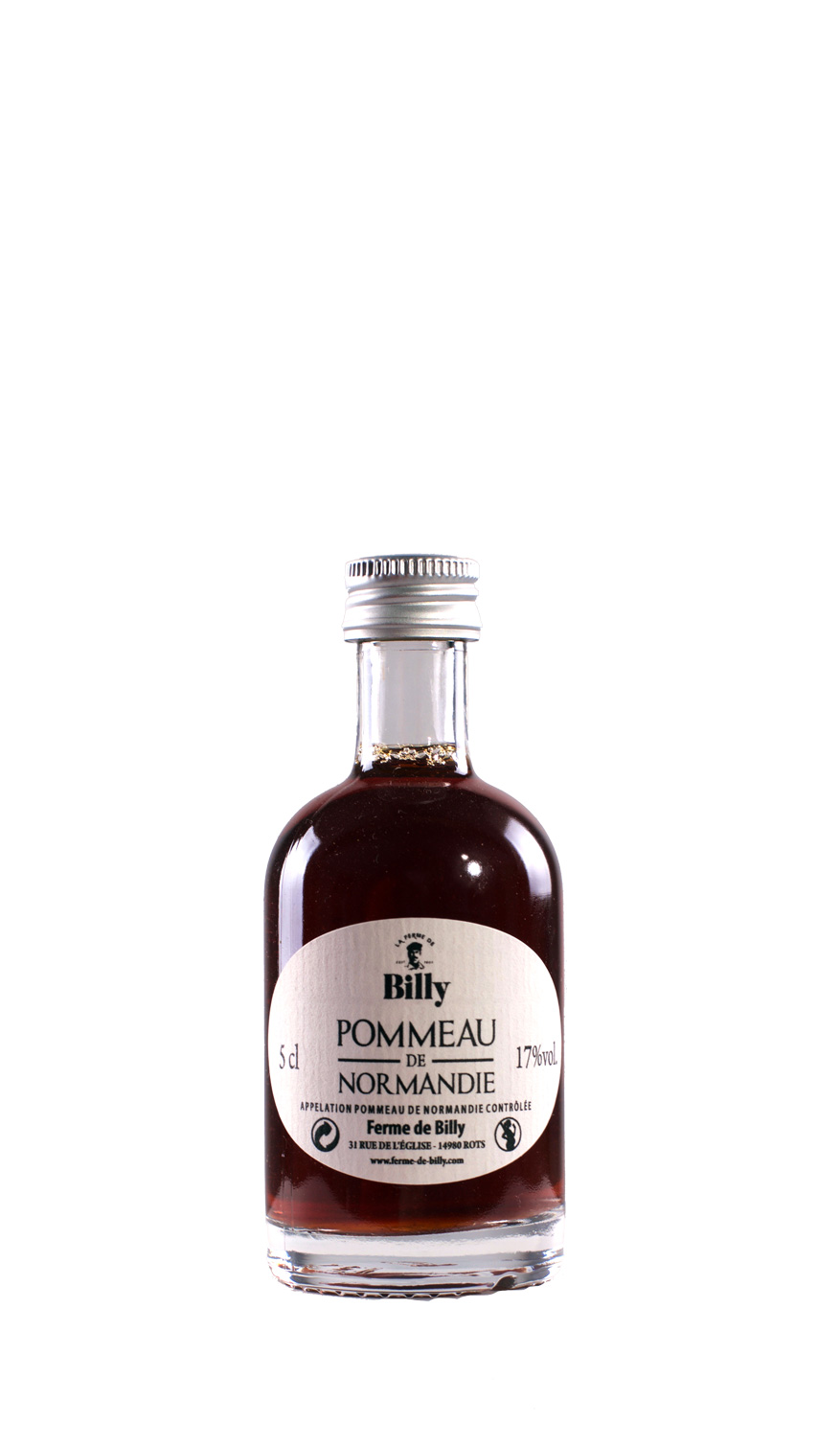 The pommeau miniature, a 5cl cl small format available in a glass bottle with screw cap.
Take it everywhere. The ideal gift* ! It does not take up space in the suitcase, to bring to friends to introduce all the flavors of Normandy.
*miniature also available in calvados de Normandie and icie cider
Alcohol seriously damages health. To be consumed in moderation.
Sale products
order by mail contact@ferme-de-billy.com