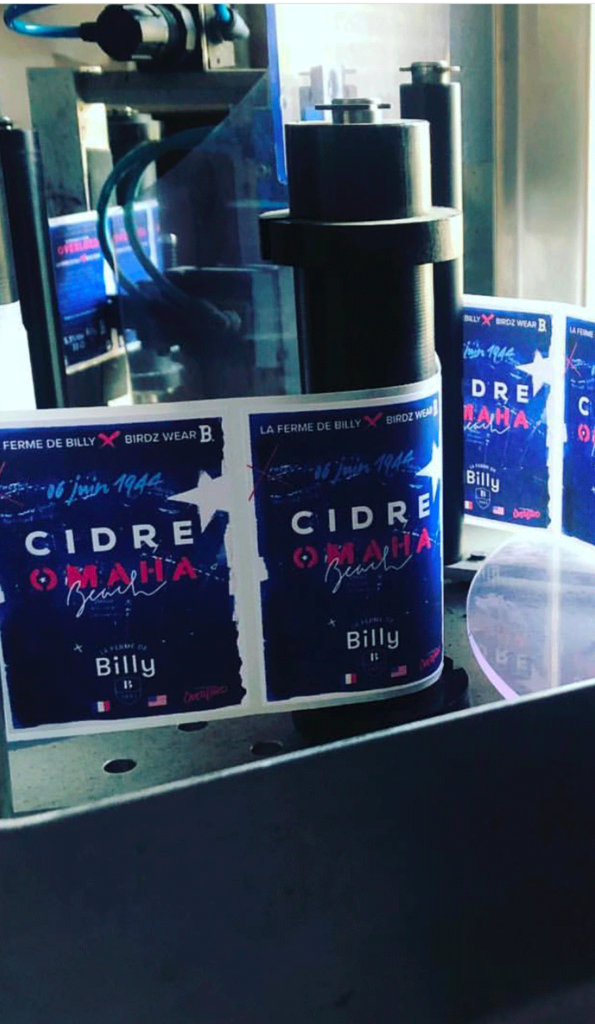 A wedding, a birthday, a seminar, a corporate gift … at La Ferme de Billy, we propose you the present that looks like you!
1 / You choose your product from our range: apple juice, ciders or aperitifs, from 1 liter to 5cl bottles.
2 / We work together on the design of your label, with your colors, your logo, your personalized message … in compliance with the  the Ferme de Billy brand codes and the legal notices
3 / and thanks to our in-house printer, we immediately launch your labels *
… we then stick your bottles … and it's in the bag!
But who creates our labels? You or/and Olivier with Aymeric.
Don' tworry ! Before becoming a cider producer, Olivier was a professional of web and photography in New York.
At the heart of the "Big Apple", he discovered, with his brother, the teeming world of contemporary art. And when the Twin Towers collapsed in 2001 Olivier started a new story in France. After 15 years in digital and photograph creation in Paris and Normandy, he decided to go back to work on cider apples creation.
Creation, printing, labeling. We offer you an ultra-personalized service in accordance to your needs within a short period of time.
*a minimum of quantities
and additional cost of creation are requested.
quote on demand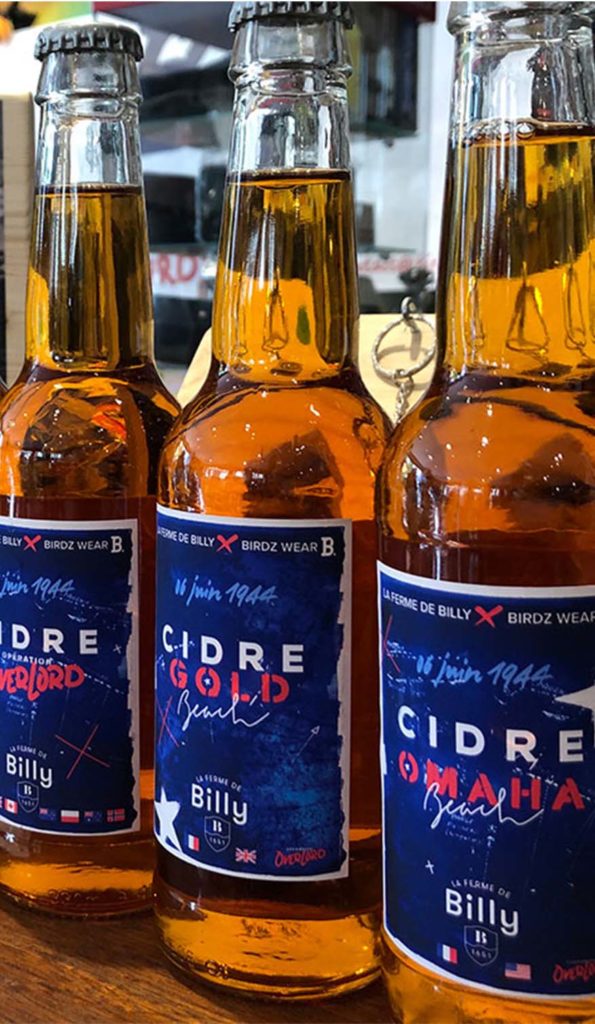 Operation Overlord. An astonishing collaboration between La Ferme de Billy X BIRDZWear for the 75th anniversary of the DDay. Calvados, Freedom and Normandy 3 words that cement this Norman creation.
When cider-making know-how meets the ardor of streetwear and the talent of Tomy Comba.
A collection of 6 ciders and calvados in a limited edition.
photo : cider 33cl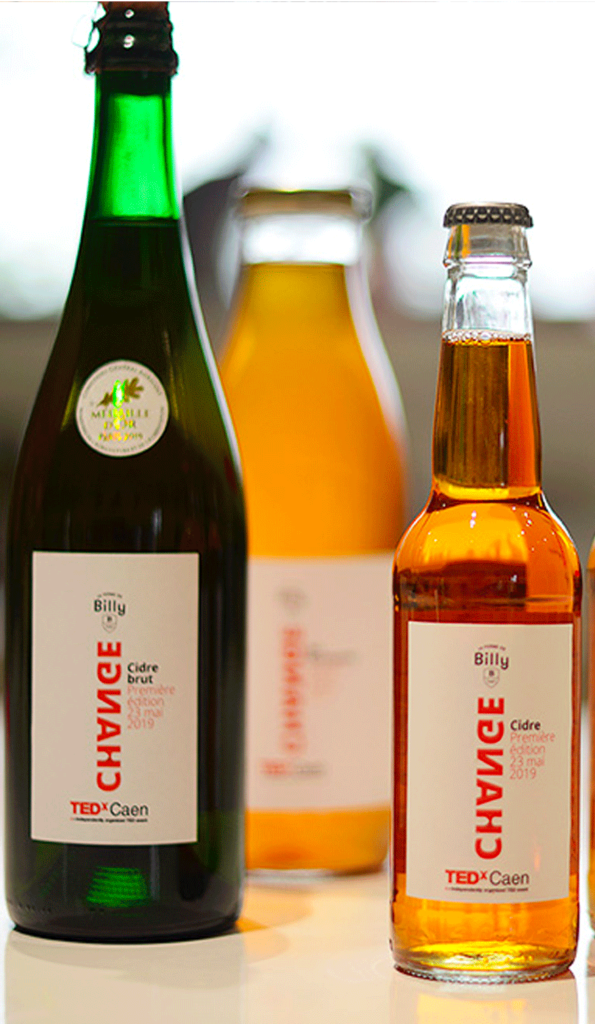 Now Caen has its own TEDx … The 1st edition of TEDxCaen took place on May 23, 2019 … and La Ferme de Billy is proud to be one of the partner in this new Caen adventure.
A rich moment on a theme that means a lot to us : #CHANGE.
photo : cider 75cl et 33 cl,
apple juice 1L
Deauville, its casinos, the boards, the beach, ithe horse races, the American Film Testival … and the Apple juice.
The city of Deauville has selected La Ferme de Billy to wear the colors of elegance of this famous worldwide known seaside resort.
photo : classic apple juice 1 L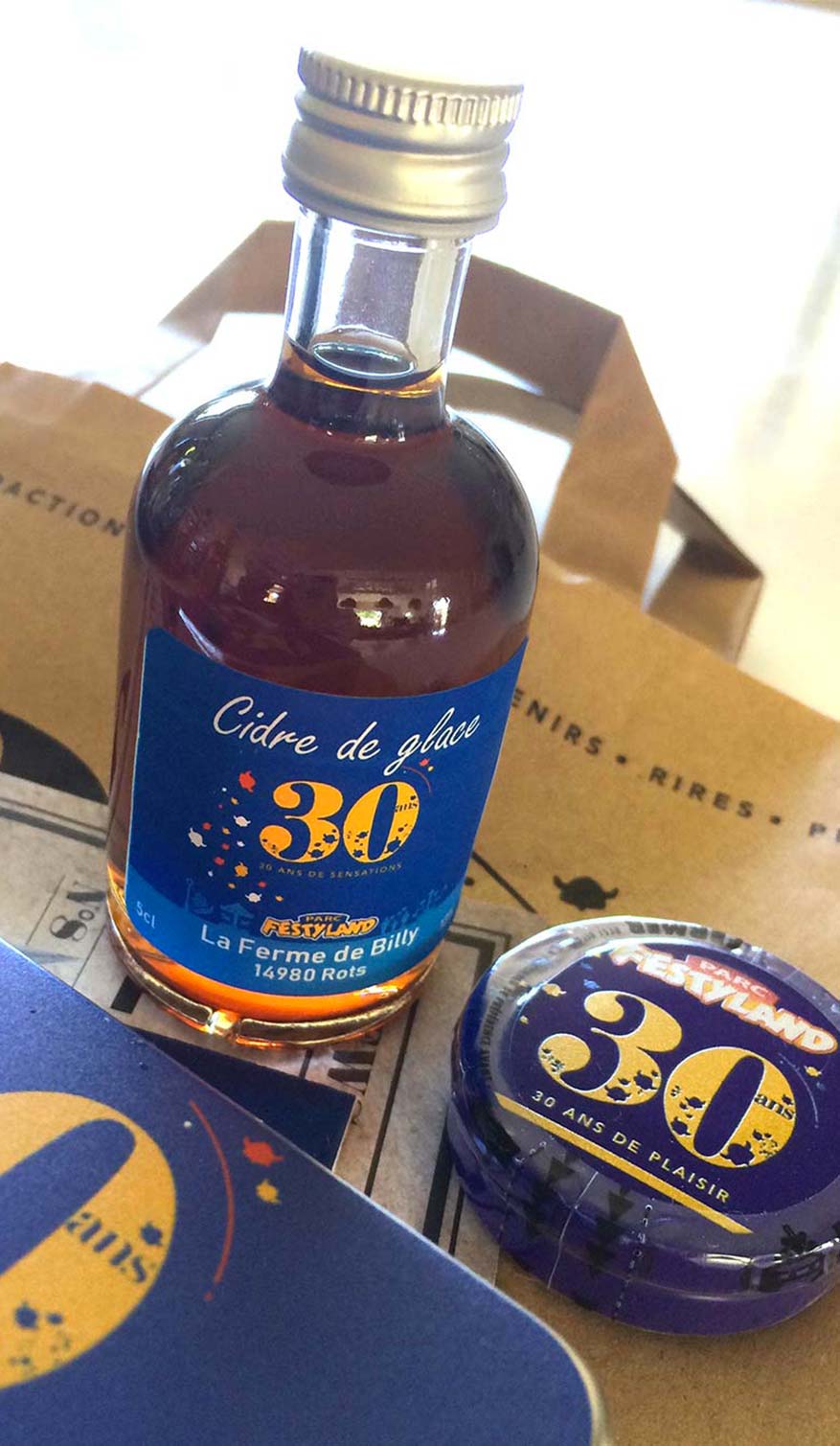 30 years is worth celebrating! To celebrate this memorable moment, Festyland, the famous Normandy theme park, offered its guests sweets with flavors "so made in Normandy".
For this occasion, La Ferme de Billy ice cider was dressed in beautiful festive colors of the Festyland theme park. 
photo : 5cl ice cider miniature
Alcohol seriously damages health. To be consumed in moderation.
Quote on demand

we co-create your own labels design
prices accordong to products and quantities
contact@ferme-de-billy.com